A Guide to Selecting a Qualified Breast Reduction Surgeon
When getting plastic surgery, selecting the right plastic surgeon is the most important decision you will have to make. After all, it's the surgeon who does the work and is capable of helping you attain the look that you desire.
Selecting the right breast reduction surgeon can be a time-consuming process, especially as plastic surgery has gained in popularity and options have increased.
What Board Certification Means
No doubt the one thing you have heard repeatedly when looking for a plastic surgeon is that you should select only a "board certified plastic surgeon." This can be confusing as there are many medical boards that offer certifications. Unfortunately, there are doctors who advertise themselves as being "board-certified" on their website but do not say which medical board they are certified by. Some of these surgeons may be trying to intentionally mislead you. They may very well have a certification, but it may be in pathology, urology or some other specialization that's hardly beneficial in cosmetic plastic surgery. Learn what to look for, what credentials your surgeon has, and then verify them.
However, you should realize that while board certification can be important, it is not the be all and end all of cosmetic plastic surgery. An artistic eye, good communication skills and surgical expertise are all equally important for achieving a satisfactory outcome.
The American Board of Medical Specialties (ABMS)
The American Board of Medical Specialties (ABMS) oversees and coordinates 24 approved medical specialty boards. It also provides information to the public, the government, the profession and its members concerning issues involving specialization and certification of medical specialists.
Breast surgeons who perform breast reduction mammoplasty will have certifications in either plastic surgery and/or surgery.
Website: http://www.abms.org
The American Board of Plastic Surgery (ABPS)
Usually, when you hear the term, "board certified" for a breast surgeon, it means being certified by the American Board of Plastic Surgery (ABPS) or, in Canada, the Royal College of Physicians & Surgeons of Canada (RCPSC). Doctors of Osteopathy (DO) can be certified in Plastic Surgery through their Osteopathic Board and also through the ABPS.
Board certification in plastic surgery by the ABMS assures that a surgeon has completed his or her residency, is trained in their medical specialty, has practiced their medical specialty for the minimum number of years, and has taken oral and written exams issued by the respective board.
Board Certification is a voluntary process. The ABPS is the only ABMS Board that certifies in the full spectrum of the entire specialty of plastic surgery.
Website: http://www.abplsurg.org
The American Board of Surgery (ABS)
The ABS is an independent organization with worldwide recognition. It is one of the twenty-four certifying boards that are members of the American Board of Medical Specialties (ABMS).
Website: http://www.absurgery.org/
American Board of Cosmetic Surgery (ABCS)
Although the ABCS is not recognized by the American Board of Medical Specialties (ABMS), ABCS eligibility requires a certification in a medical specialty overseen by the ABMS.
Website: http://www.cosmeticsurgery.org
Board Eligible: What Does It Mean?
Becoming certified by the American Board of Plastic Surgery (ABPS) may take years to complete. Some surgeons may use the words "board eligible" to imply that they do meet the criteria to be eligible for examination and possible certification by a particular board, but have chosen not to take the exam and become certified.
If a surgeon states that he is board eligible, ask for details. Ask about their residency and their contained medical education courses (CME). With these questions answered you will know if the surgeon has had the medical training and has continued his medical education over the years.
Professional Aesthetic Medicine Societies
These societies are not required to practice cosmetic plastic surgery, nor do they mean that a surgeon is competent and has a skillful eye. But being a member of either of the societies listed below assures that the member meets their criteria for enrollment. They are thought of as prestigious and impressive, but not necessary. However, membership assures you that the surgeon meets their stringent criteria.
The American Society of Plastic Surgeons (ASPS)
The American Society of Plastic Surgeons (ASPS) comprises 97% of all physicians certified by the American Board of Plastic Surgery (ABPS). In order to be a member of ASPS, plastic surgeons must be certified by the ABPS (in Canada by the Royal College of Physicians and Surgeons of Canada and/or the Corporation Professionelle des Medicins du Quebec).
Website: http://www.plasticsurgery.org
The American Society of Aesthetic Plastic Surgery (ASAPS)
This is an organization, which only accepts cosmetic plastic surgeons certified by either the American Board of Plastic Surgery (ABPS) or the Royal College of Physicians & Surgeons of Canada (RCPSC). The ASAPS is not a board, rather a society, which requires that their members uphold a strict and thorough professional code of conduct and possess the extensive training and required certifications.
Website: http://surgery.org
Additional Organizations
American College of Surgeons (ACS)
The American College of Surgeons is a scientific and educational association of surgeons that was founded in 1913 to improve the quality of care for the surgical patient by setting high standards for surgical education and practice. You may see the initials FACS after a surgeon's name. This means the surgeon is a fellow of the ACS, which means he or she is a member.
Website: http://www.facs.org
Continued Medical Education (CME)
Most states require that a physician seek a minimum amount of hours before allowing a physician to renew their license. Check with your individual state's medical or osteopathic board for more information.
Professional societies also require CME to maintain their membership. The American Board of Plastic Surgery requires at least 150 hours of CME during the three years preceding the recertification application to be considered for recertification. Professional societies like the ASPS and the ASAPS also require CME to maintain their memberships.
How to Find A Good Surgeon
Patient-to-patient referral is one of the best ways to find an excellent surgeon. Read our discussion forum (message board) and speak with real patients every chance you can get. Ask to view these patients' before-and-after photos. Even in the event of a negative report, you should definitely ask to see before-and-after photos. Beauty is subjective, as are cosmetic surgery results. What may be a bad surgery experience to someone else just might be your dream result. The Internet is full of anonymous people who may very well not even be real patients, so consider the source.
Also, just seeing a symbol or two on a surgeon's affiliations or memberships section doesn't mean that he is the doctor for you. These certifications and associations do not guarantee that the surgeon shares your aesthetic taste, nor does it imply that you will find what you are seeking. Please use all of the information on this page, the next few sections and on our message board to better determine what you may need, what you are looking for and just who is right for you.
Where to Get Referrals For Qualified Surgeons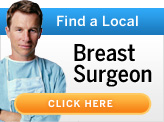 Now that you know what to look for, where do you find it? This part of the process can be very confusing and frustrating. With the popularity of plastic surgery TV shows and rise in cosmetic surgery cases today, physicians everywhere are advertising their services. The Internet is full of plastic surgery information sites designed simply to get your business and not educate or support you during this very important journey. So where do you start?
The BreastReduction4You.com Surgeon Referral Database
You may visit our own referral section for a listing of some of the best surgeons in your general area. We are very selective about who we list. Our sponsoring surgeons have been chosen after repeated referrals from our own message board members. We have followed these patients' progress, viewed their photos and spoken with them personally before we even considered reviewing their surgeon for possible inclusion. This is a difficult and time-consuming process, so we do not have all cities or states covered at this time, but it's still a good place to start.
The BreastReduction4You.com Message Board and Support Forum
If you cannot find a surgeon with an office nearby in our database, you can use our own Breast Reduction Discussion and Support Forum to ask for referrals. The forum is an invaluable tool to gain support and friends to help you through your journey. By posting for surgeon recommendations on our board, you may get several patients who are willing to share the names of their surgeons. It's likely you'll be able to see their before-and-after photos and read their journals. Some patients would rather email their personal information in private, so you should create an email address you wouldn't mind posting publicly. A good web-based email service for this is www.hotmail.com.
Ask Within the Medical Field
If you have a friend or relative who works in the medical field, and if you feel comfortable discussing the matter with them, ask who is the best scalpel in town. Ask your general practitioner, or your gynecologist. They usually know of a good surgeon that you may want to check out, or maybe to avoid. Even ask around your gym or salon, if you feel comfortable enough. People talk to their hair stylists about everything and many gush about their surgeons.
Be Cautious of Television and Magazines
The fact that a surgeon is featured on television or in a magazine does not mean that he or she is a great one, especially with the rise of plastic surgery in the media today. There are many surgeons that I would not recommend who have appeared in documentaries, television shows, infomercials, beauty magazines, "Best Surgeons of the Year" magazines and other publications. Some surgeons are coasting on their reputation while others may be very skilled but are too caught up with TV appearances to give you the kind of attention you deserve. Use the media for information, but do not let them make decisions for you.
Communication is Key
Communication is a necessary key to having a good doctor-patient relationship. If you cannot communicate what you are looking for, how can you expect your surgeon to know what your expectations are? Be sure that your surgeon is open to your desires and wishes, and realistic about the possible outcomes. It is your body, but your surgeon is the one who will be operating.
It is important to realize that you cannot expect to bring in a photo of someone else's body parts and say, "Make me look like this." As a general rule, a surgeon can only improve what you already have. However, you should bring photos of what you like and don't like to help convey what your desires are. You should expect improvement, not miracles, and you should definitely expect proper care, treatment and empathy. Remember that you are the paying customer. You are essentially interviewing the surgeon for a very important job: assuring your health and well being.
At BreastReduction4You.com, you can find information that will facilitate the process of locating a qualified plastic surgeon to perform your breast procedure. Using our resources, you can find the best plastic surgeons in the US, including specialists plastic surgery Manhattan, Chicago, Dallas and Los Angeles patients trust to fulfill their aesthetic desires. Many big-city patients, including Manhattan breast augmentation and reduction patients, follow up their breast procedure with additional plastic surgery, including body contouring. Many of these cosmetic surgery facilities help their local patients, including tummy tuck New York City patients, achieve their ideal image.